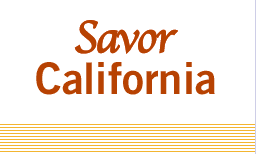 New York Fancy Food Show Booth #2674
BevNet's Fancy Food Show Video Tour
Oakland Magazine's Fancy Food Show Picks
California Drought Solutions
Eater.com on Summer Fancy Food Show
CocaCola Journey
Food Trend Spotting
Savor California Tour
KGO, Gene Burns Interview, 2/20/10
ABC7 News, 2/18/2010
Winter Fancy Food Show
Gene Burns Interview, San Angel Mole, 2/28/09
Gene Burns Interview, Fentimans, 2/28/09
Gene Burns Interview, Nana Mae's Organics, 2/28/09
Gene Burns Interview, Savor California, 2/28/09
ABC7 News, 2/20/2009
The Press Democrat, 2/18/09
Chowhound, 1/12/09
ABC7 News, 2/15/2008
NBC 11, 2/13/2008
The Sacramento Bee, 2/3/08
KGO Newstalk AM 810, 2/2/08
Specialty Food, 11/07
Vineyard & Winery Magazine, 9/07
Specialty Food, 5/07
The New York Times, 11/15/06
Nurses World Magazine, 6/06
RGJ.com, 5/24/06
Santa Cruz Sentinel, 4/30/06
San Francisco Chronicle, 3/1/06
The Gourmet Retailer, 9/13/05
San Francisco Chronicle, 8/31/05
Northwest Indiana Times, 8/7/05
Reno Gazette-Journal, 8/2/05
New York Newsday. 7/20/05
Food411.com, 7/05
Endless Vacation, 5/05
KCBS Food News, 5/9/05
VisitCA.com, 5/1/05
OregonLive.com, 4/24/05
Napa Life, 4/6/05
CaliforniaWeekend.com, 3/29/05
SC does Slow Food Tasting, 3/28/05
The Sacramento Bee, 3/20/05
San Jose Mercury News, 3/2/05
What's New in California, Fall 2004
Specialty Food News, 9/27/04
Edible Souvenirs, 9/24/04
Ultimate Convenience Food, 9/23/04
North Bay Business Journal, 6/7/04
Class Notes, Summer 2004
Class Notes, May 2004
The Bohemian, 2/18/04
The Healdsburg Tribune, 1/14/04
The Press Democrat, 12/31/03
SavorCalifornia.com Launches, 12/03
Winter Fancy Food Show Video

Website Takes Off Promoting Artisan Foods
North Bay Business Journal, Santa Rosa, California
Loralee Stevens
June 7, 2004


Healdsburg - Jane St. Claire didn't launch her specialty foods Website with a shower of sparkling wine and investment dollars. Instead, she pored over spreadsheets, buttonholed food purveyors, studied hundreds of food-related Websites, took out a mortgage, and finally, last December, "I walked off the end of the pier. It's the most scary and exciting thing I've ever done."

A confident innovator and navigator of the Sonoma County fine arts and wine scene, Ms. St. Claire knew that establishing a site highlighting the artisan foods of Sonoma County would be more challenging than mounting an art exhibit, artistic performance, or fancy wine event. But her ability to plan served her well.

"When you launch with our own money, you don't want more than the usual unexpected events to trip you up," she says. "Website designers are expensive, and they make most of their money catering to the indecision of their clients.

"Before I went to Planeteria in Santa Rosa, I had lists of things I hated about Website design, colors, layout, navigation and salability and things I loved. I told them, 'Stay on the love side, and don't stray onto the hate side, and we won't need to make changes in the format as we grow the site.' "

From Mendocino to L.A.

The former executive director of Consorzio Cal-Italia-a group of Italian-style winemakers-and founder of the Healdsburg Arts Council, Ms. St. Claire had intended to develop the site county by county, starting with Sonoma. But "the demand from other regions made me change my mind." The site now lists food purveyors and farmers' markets from Mendocino to Los Angeles.

Marketing partners pay $360 a year for a page featuring history, photographs, contracts, and links to individual sites and online shopping. Ms. St. Claire, who visits each prospective partner, will take the photographs herself if necessary or produce a digital logo. "My course in PhotoShop is really paying off," she says.

What's also paying off is her years in the wine industry. Invitations to provide a food counterpart to wine at tasting events have given her an opportunity to showcase her SavorCalifornia partners in new ways.

She maintains a presence at specialty food shows, too, with at least one serendipitous result.

"I expended a lot of time and planning on a booth at a recent show, and it attracted the attention of a major national publication. I think SavorCalifornia will be in their 'What's New' section. That would give the site national exposure."

SavorCalifornia's business plan projects profitability in a year and half from its launch, and things are pretty much on schedule.

"If revenues don't match the month-by-month projections, we're able to trim expenses to balance the books. What has really helped is the standardization of page templates and the ease of updates."

'A better strategy'

SavorCalifornia.com stands in stark contrast to Tavolo.com, a Novato-based gourmet food site founded in the late 1990s. With a staff of 84, 6,000 items in inventory, and $86 million in venture capital, Tavolo went down in the dot-com wreck. Two wine-related sites, Wine.com and Wineshopper.com, burned through over $200 million in funding.

"I think having that much money could stand in your way," says Ms. St. Claire. "When there was a problem, you'd just throw money at it, instead of having to think long and hard about how to solve it.

"I launched SavorCalifornia.com small with the idea of growing big over a long period of time. That's a better strategy than starting big and growing to nothing at all in a short period of time."